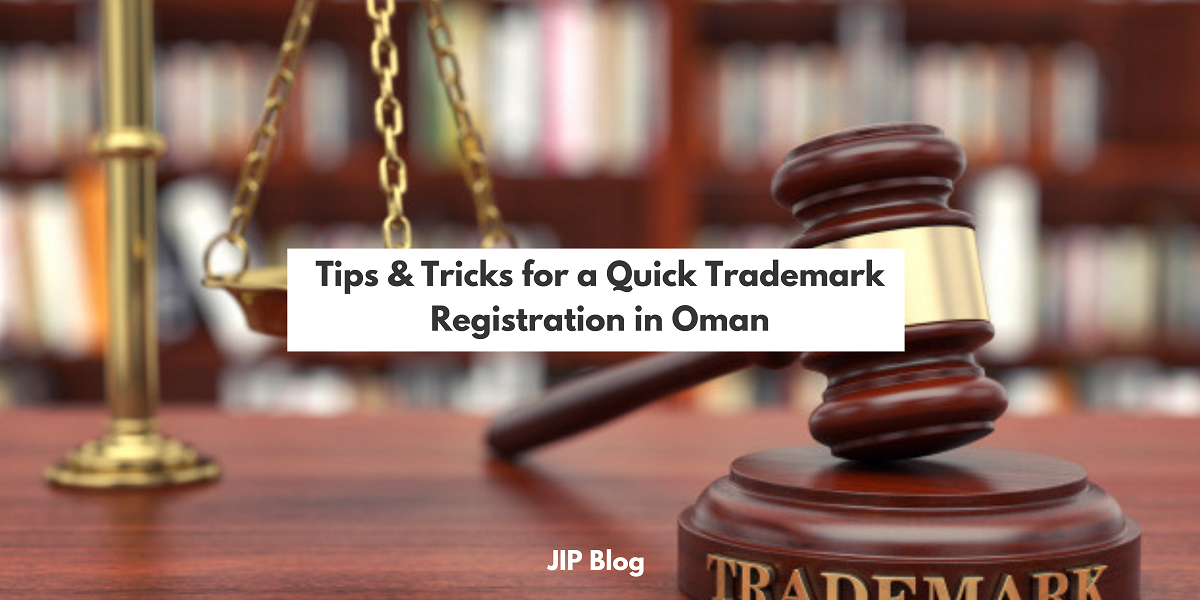 Tips & Tricks for a Quick Trademark Registration in Oman
Creating a brand that instantly resonates with consumers and the general public is essential to ensure business success across the world including in the Sultanate of Oman. Consumers associate a brand with their previous good experience with the product, which establishes strong brand loyalty. However, what if someone tries to exploit the reputation of your brand by marketing a product with a similar brand name or logo?
A similar brand name creates confusion among consumers, which would drain your brand's reputation and revenue. To save your business from such unforeseen events, it is essential to protect your brands by conducting trademark registration in Oman. As per the law, foreigners require the assistance of the best trademark agents in Oman to ensure brand protection.
In this article, we share some vital aspects regarding the procedure of trademark registration in Oman, which would help in your background research. Let's begin.
Select the Right Kind of Trademark for your Brand
Before making the first move on registering your trademarks in Oman, you need to ask yourself whether the trademark you selected for the brand is strong enough to easily connect with the consumers. There are certain universally accepted benchmarks to determine the strength of the trademarks.
First of all, avoid descriptive trademarks that directly describe the quality or features of the product without leaving nothing to the imagination. The brand name Creamy Delight for an Ice Cream product is descriptive and can be easily infringed. Select fanciful (such as XEROX for copying machine) or arbitrary marks (Apple for a tech product) to enjoy wider protection. If you are confused about how to select a strong trademark, ask for the advice of the best trademark agents in Oman.
Ensure You are Not Infringing Other Trademarks
While applying for trademark registration in Oman, you need to ensure that your trademark is not identical or confusingly similar to the existing marks. If your proposed trademark is in conflict with other registered trademarks in Oman, it will attract a trademark opposition claim from third parties. Dealing with a trademark opposition in Oman would delay your registration procedure.
However, there is an effective strategy to avoid trademark opposition: conduct a detailed trademark search on registered trademarks. You can conduct a trademark search on the official database or on online resources. You don't need to personally undertake the process. You just need to hire a trademark agent who offers reliable trademark search services in Oman.
Local and International Trademark Registration
International trademark registration is not possible in many GCC countries. However, since Oman is a signatory to the Madrid Protocol, you can perform both international and national trademark registration in Oman. If you have registered one or more trademarks in other countries under the Madrid Union, you can apply for trademark registration in Oman through a single filing.
If you don't own trademarks in multiple jurisdictions, you can apply for national trademark registration. The application for trademark registration should be filed at the Department of Intellectual Property (IP Department) at the Ministry of Commerce and Industry. Your application should contain a description of the trademark, and it should be distinctive from other trademarks in aspects like shape, colour, etc. Consult with the best trademark agents in Oman to quickly register your brands.
Choose the Right Trademark Classes
Oman follows the 11th edition of the NICE International Trademark Classification. You can file trademarks in Oman for goods and services under classes 1 to 45 of the Nice Classification. With the help of trademark agents in Oman, you can determine the relevant classes for your products or services.
It is better to file your trademarks under multiple classes in order to prevent the registration of similar brand names in the same Class. Also, filing under the wrong classes creates brand confusion among consumers. Remember that you have to file a separate application for each Class.
Do Not Wait till the Trademarks Expire
Managing your brand portfolio will be a hard task if you own multiple trademarks. If you don't keep track of the expiry date of the registered trademarks, it will put a hole in your pocket in the form of penalties. Protection through trademark registration in Oman is for ten years from the date of filing the application.
As a trademark owner, you are required to renew the registration within six months from the date of expiry. If the period of six months lapses and the owner of the mark has not applied for renewal thereof, the trademark office will strike off the mark from the register. After that, the trademark will be allotted to another brand owner within a gap of three years. Your trusted trademark agents in Oman will send timely reminders about the renewal, effectively saving you from late payment and eventual strike-off.
How Can Jitendra Intellectual Property Help You?
Trademark registration in Oman is a time-consuming process that requires expert assistance in terms of selecting the right trademark classes, filing a proper application, submitting the right documents and conducting a trademark search etc. Creating the right strategy with the help of the best trademark agents in Oman is the viable solution to register the marks without any delay.
Jitendra Intellectual Property (JIP) is a highly experienced IP firm providing trademark registration services in Oman and other GCC countries. JIP's trademark agents help you in getting the trademarks registered in Oman in compliance with the governing trademark legislation. JIP is committed to protecting your brand identity by delivering robust IP solutions.