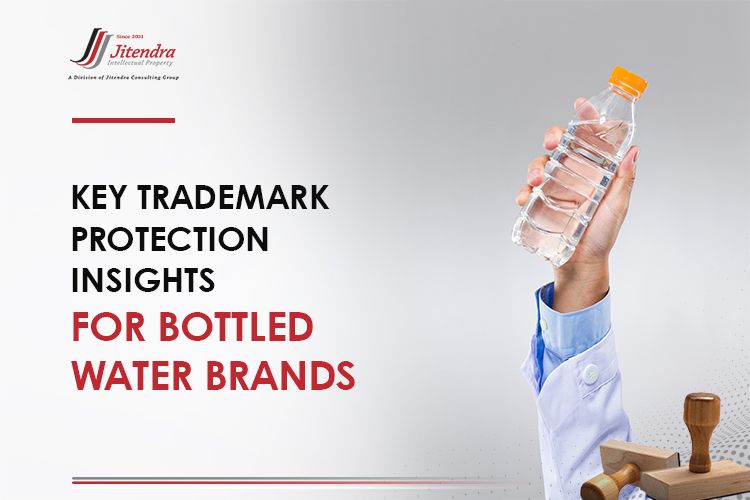 Key Trademark Protection Insights for Bottled Mineral Water Brands
If your business is engaging in the manufacturing and distribution of bottled drinking water in the UAE, you are entering a battlefield. You need to compete with both local/regional and international brands to script a success story. Developing a brand and protecting it through trademark registration in the UAE are key to the success of bottled mineral water businesses in the region. Trademark agents in the UAE can provide you with valuable insights on trademarking your mineral water brand.
Not trademarking your bottled mineral water product will render you weak in the brand war with other well-known names in the industry. Remember, you have to compete with local brands such as Mai Dubai, and Masafi and international brands such as Aquafina and Bisleri to win the brand war. All such brands enjoy a good reputation among consumers due to their registered trademarks. Keep reading if you want to learn key trademark protection insights for bottled water brands:
Why Register a Trademark in the UAE?
Without registering a trademark in the UAE, your bottled mineral water business will die soon. The market is controlled by big brands that have invested heavily in branding and advertisement. An average consumer can easily recognize the logos and brand names of such big businesses, which is the key to their business success. Consumers opt for bottled mineral water as they trust the registered trademark displayed on the packaging.
Moreover, if your brand is fairly known in the market you should not delay the process of trademark registration in the UAE. Any competitor can create confusingly similar logos or brand names and deceive the customers into buying their own brand. Without a registered trademark, you will struggle to prove the infringement committed by the competitor. You will also lose your revenue and customers if you do not register a trademark.
Choose a Distinctive and Strong Trademark
Once you have decided to protect your trademark in the UAE, you have to come up with a strong and distinctive trademark. A weak trademark (generic and descriptive marks) will land you in trouble as the UAE Trademark Office may reject them. You can be a little more creative by developing a fanciful trademark, which will ensure you the highest degree of protection. Trademark agents in the UAE can help you assess the strength of your proposed mark.
Carry out a Trademark Search before Applying
Now, it's time to check whether a trademark similar to your proposed wordmark or logo is registered with the Ministry of Economy. This can be checked by conducting a trademark search in the UAE. This is not a mandatory requirement but failing to do a trademark search in the UAE may lead to either the rejection of your application or a trademark dispute with the owner of the senior mark. Trademark agents in the UAE can conduct a comprehensive trademark search on your behalf.
Determine which Class the Mark Belongs to
UAE follows the NICE Classification system consisting of 45 classes of products and services. You need to file your trademark under the right classes while applying for registration. Class 32 is the ideal primary class for your bottled mineral water product. The class is dedicated to Water and Non-alcoholic Beverages. You should also file your trademark under other classes if relevant.
Create a Worldwide Trademark Strategy
Bottled mineral water brands have an international appeal as water is the most consumed product worldwide. If you have an international presence or have the plan to expand into more countries, you must apply for international trademark registration under the Madrid Protocol. The UAE joined the Madrid Protocol on September 28th 2021, providing you with the opportunity to protect your brand in more than 125 countries with a single application, in a single language and paying only a single set of fees.
Develop a Strong Trademark Enforcement Plan
Trademark registration in the UAE doesn't guarantee 100% protection for your brand. If you fail to monitor your trademark actively, it may fall prey to trademark infringement. With the help of watch services in the UAE, you can monitor the marketplace to identify any kind of infringement. Based on the watch report, you can take legal action against the infringer.
Renew your Trademark on Time
Your trademark is valid for 10 years and you can renew it upon expiry. If you miss the deadline, you will get a grace period of six months to apply along with a late penalty. Your trademark will be removed from the register by the Ministry of Economy if you fail to renew it during the grace period. In such a situation, you can reclaim your trademark by filing a fresh application in the three years that follow the expiry of the registration. However, other parties can apply for your trademark if you fail to reclaim your trademark.
Hire the Best Trademark Agents in the UAE
It is essential for bottled mineral water companies to register a trademark in the UAE to ensure increased brand protection. Jitendra Intellectual Property (JIP) as the best trademark agent in the UAE can help you protect your logo, brand name or slogan without any hassle. Our trademark services in the UAE include trademark registration/renewal, trademark search, trademark watch etc. JIP also provides international trademark registration services as per the Madrid Protocol. Call our dedicated trademark experts to ensure your trademarks remain protected.