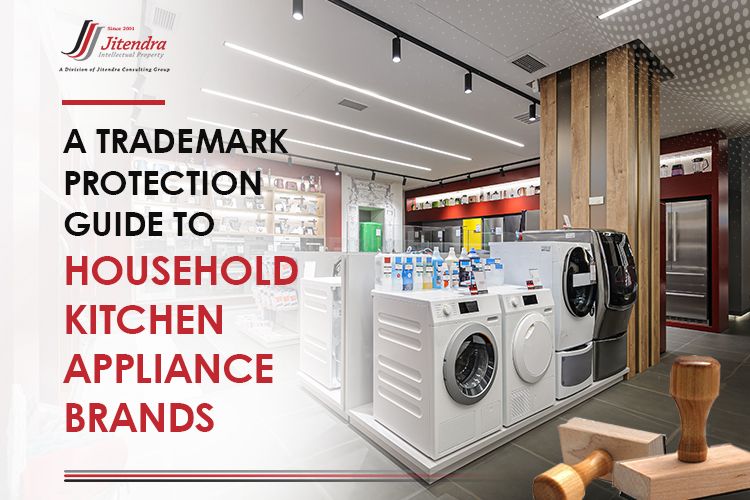 A Trademark Protection Guide to Household/Kitchen Appliance Brands
Businesses engaged in the household appliances sector should not ignore the significance of trademark registration in the UAE, given the extreme level of competition in the sector. Since a multitude of brands competes with each other to grab a lion's share of profits, it is essential to establish a strong brand and create a loyal customer base. However, establishing a brand should go hand to hand with safeguarding the IP rights with the help of trademark agents in the UAE.
In the absence of a well-protected trademark, your household appliances brand could be infringed by your competitors. Trademark infringement will lead to loss of revenue and loss of brand reputation. Without trademark protection, your competitors will get a free ride on your reputation and will snatch a good number of your customers. However, before registering a trademark in the UAE, you need to understand certain standard procedures and requirements that will ensure robust brand protection for your business. Given below is an essential trademark protection guide to household appliance brands:
Properly Select a Trademark
Customers who buy household appliances or kitchen utensils give high priority to the quality of the products they buy. Their purchasing decision is heavily influenced by the power of the brand name, which they link with the quality of the product. It means you need to project a strong brand into the minds of the customers to win their trust.
A strong brand name is easily recognisable, hard to imitate and easy to register as a trademark in the UAE. A strong trademark can be selected by avoiding generic and descriptive terms that are hard to protect or register. You can use fanciful trademarks (formed by coined words) to ensure distinctiveness. Brand owners can assess their trademark strength with the help of trademark agents in the UAE.
Carry Out a Trademark Search
A trademark search is not a mandatory requirement but is essential to avoid opposition claims and potential rejections. After selecting a trademark, you need to ensure that the brand name is available for trademark registration in the UAE. Trademark agents in the UAE can search the official trademark database to see whether your proposed mark is similar to any registered mark.
If your proposed mark matches with an already registered mark, you must come up with a new mark that is unique. Otherwise, the owner of a similar mark can file an opposition claim against your mark and get your application rejected. Avail of trademark search services in the UAE to avoid potential delays or rejection.
Classify Your Mark as Per Appropriate Goods or Services
You need to list your mark against the right goods or services depending on the nature of the product. As per the Nice Classification system, there are 45 classes of goods and services and you must identify which class your goods belong to. Class 21 is the primary trademark class under which you need to file your household appliance trademark.
Class 21 includes utensils and vessels for household and kitchen devices, electric combs, electric toothbrushes, dish stands and decanter stands etc. However, it doesn't include items such as specific goods made of glass, porcelain and earthenware, cleaning preparations, soaps, small equipment for mincing, grinding or pressing that are driven by electricity, razors and shaving apparatus, clippers, metal devices and utensils for manicure and pedicure etc. If more classes apply to your goods, you should file your trademark under those classes as well.
Consider International Trademark Registration
If your brand has a global presence, carrying out trademark registration in the UAE only won't suffice. You can register your trademarks in multiple global jurisdictions through the Madrid Protocol of International Trademark Registration. You can move your application from the UAE through a single filing and get protection in over 120 member countries of the Protocol. The application can be filed in a single language, requiring only a single set of fees.
Enforce your Trademarks in the UAE
You can't sit complacent after registering your trademark in the UAE. You need to police your trademark properly to see if someone else is infringing upon your registered mark. However, it is practically impossible for trademark owners to do this task constantly. Trademark agents in the UAE provide trademark watch services, using which brand owners can identify if competitors and counterfeiters are infringing their IP rights. Availing of trademark watch services in the UAE is key to policing your marks properly.
Consult with the Best Trademark Agents in Dubai, UAE
Conducting trademark registration in the UAE provides the brand owners of household appliance goods with an exclusive right to use their mark. Carrying out trademark registration with the help of trademark agents in the UAE gives you the legal right to sue anyone who copies or misuses the mark.
Jitendra Intellectual Property (JIP) is one of the leading providers of trademark services in Dubai, offering end-end trademark solutions for all types of companies. JIP provides bespoke services such as trademark registration, renewal, trademark search & watch services. We also provide robust services related to trademark registration through the Madrid Protocol of International trademark registration.