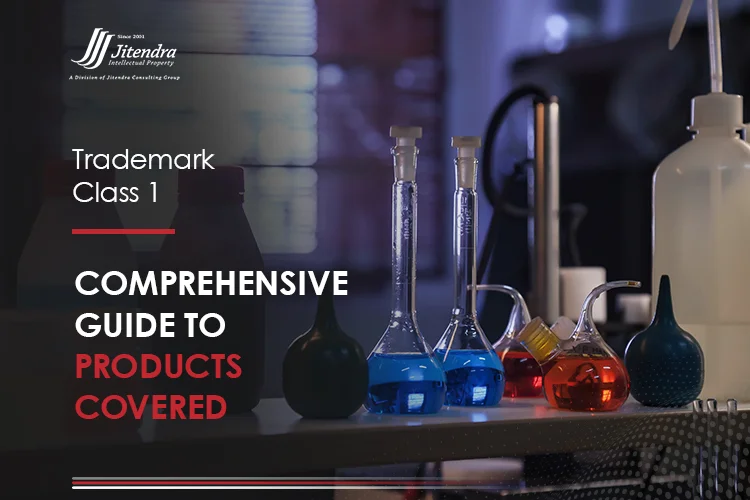 Comprehensive Guide to Products Covered by Trademark Class 1
When it comes to trademark registration in the UAE, it is mandatory to select the relevant classes while submitting the application to the Ministry of Economy. Products and services are classified under 45 different classes whereas similar goods or services are grouped under a single class. This classification is called the Nice Classification and businesses need to specify which class their trademark belongs to while applying for registration. In this way, the trademark will be exclusively associated with products in that class alone.
In order to choose the classes accurately, you need to have a solid knowledge of the goods represented by each class under the Nice Classification. Trademark agents in Dubai can help you to avoid any errors while selecting a trademark class. In this article, you will learn more about the products covered by the trademark Class 1. Let's read ahead:
What Is Trademark Class 1 as per Nice Classification?
The trademark Class 1 is the first class in the Nice Classification and it includes chemicals. The class mainly includes chemicals for use in industry, science and photography, as well as in agriculture, horticulture and forestry; unprocessed artificial resins, and unprocessed plastics; fire extinguishing and fire prevention compositions; tempering and soldering preparations; substances for tanning animal skins and hides; adhesives for use in industry; putties and other paste fillers; compost, manures, fertilizers; biological preparations for use in industry and science.
Specific Products Covered by Trademark Class 1
Trademark class 1 mainly covers chemical products for use in industry, science and agriculture, including those which go to the making of products belonging to other classes. The following are the major products covered by trademark Class 1:
Sensitized paper;
Tyre repairing compositions;
Salt for preserving, other than for foodstuffs;
Certain additives for use in the food industry, for example, pectin, lecithin, enzymes and chemical preservatives;
Certain ingredients for use in the manufacture of cosmetics and pharmaceuticals, for example, vitamins, preservatives and antioxidants;
Certain filtering materials, for example, mineral substances, vegetable substances and ceramic materials in particulate form.
Products not included in Class 1 of Trademarks
While selecting a trademark class in the UAE, you may also come across products that otherwise seem to fit into Class 1. Class 1 does not include the following products:
Raw natural resins (Class 2)
Semi-processed resins (Class 17)
Chemical preparations for medical or veterinary purposes (Class 5)
Fungicides, herbicides and preparations for destroying vermin (Class 5)
Adhesives for stationery or household purposes (Class 16);
Salt for preserving foodstuffs (Class 30);
Straw mulch (Class 31).
Coordinated Classes Relevant to Class 1
After selecting the primary class, you should look for other classes that are related to Class 1. This is called coordinated classes and filing your trademarks under coordinated classes will increase the scope of protection. Coordinated classes are relevant when a business sells other lines of products or offer a service related to the main line of product. Trademark agents in Dubai can help you choose the right coordinated classes. The following are the coordinated classes relevant to Class 1:
Trademark Class 5 – Pharmaceuticals
Trademark Class 17 – Rubber Products
Trademark Class 35 – Advertising and Business Services
Trademark Class 42 – Science and Technology Services
Trademark Class 44 – Medical and Vet Services
Hire the Best Trademark Agents in Dubai, UAE
While carrying out trademark registration in the UAE, business owners are required to list at least one trademark class in their application. They should also remember to specify relevant coordinated classes for enhancing the scope of trademark protection in the UAE. If you are struggling to choose the right trademark class, trademark agents in Dubai such as Jitendra Intellectual Property (JIP) can help you. JIP is one of the leading providers of trademark registration services in Dubai, UAE with years of commendable experience.
Our agents are highly qualified and well-versed in the UAE Trademark Law and the procedures of the UAE Ministry of Economy. JIP can help you navigate the complex procedures set out by the UAE Trademark Office so that you can avoid opposition or outright refusals. We can also help you track infringers through our robust trademark watch services in the UAE. If you want to protect your trademark internationally, JIP can help you file a trademark using the Madrid Protocol system. Contact us today for more information on our services.